Burton Waters Guide To The Prestige Range Of Luxury Yachts
Prestige are a world-renowned luxury boat manufacturer with a wide range of boats, including the Flybridge and S-Line.
These motorboats and yachts are built for both comfort and elegance to give you a real home away from home while on the water. The attention to detail in the design of every Prestige Yacht is clear from the recent interview with Erik Stromberg, the Design and Development Manager from Prestige, as he explains in the video below:
The Prestige range is reassuringly expensive starting at £400k through to £2.5m, but for a good reason, as they have a lot more to offer in terms of quality and comfort. The 360° panoramic views from the main deck are unparalleled across the whole range, paired with great design throughout the whole vessel to provide a truly indulgent experience.
The galley is positioned so it is easily accessible from the saloon or cockpit with plenty of spacious lounge areas. On the majority of the range, the main cabin is accessible via a private stairwell separate from the main living spaces and the large flybridge decks offer space for sun-bathing, socialising or dining whilst enjoying amazing sea views.
From the Prestige 460 through to the new Prestige X70 (being launched at Cannes Boat Show 2020), all vessels are POD driven for excellent performance and control.
Sign up to receive exclusive information and reviews of the New Prestige 420 Flybridge
Main Features To Think About:
Engines & Power
The size of engine increases proportionally with the size of the vessels, some models in the range come with a choice of engine capacity, and in turn horsepower, to give an optimal cruising speed so you won't be left behind.
All models come with, or have the option to come with, joystick control on the flybridge, at the interior helm and even one in the stern cockpit along with variable speed bow thrusters to assist mooring.
Prestige boats are one of the most fuel-efficient boats in the class. This is largely due to the fact the hulls and engines are married together from the outset, to give optimum efficiency.
Sign up to receive exclusive information and reviews of the New Prestige 420 Flybridge
Handling & Navigation
A range of navigational aids are available across the Prestige vessels. Provided by Raymarine, a world leader in high performance marine electronics, the devices deliver the very best in visual navigation information. Ranging from Clearcruise augmented reality to open array radar in multifunction navigation displays.
To assist with mooring, bow thrusters and a reversing camera and even the new DocMate (Add link to MBY video) can be fitted to aid safe and accurate manoeuvring of the vessel. An additional feature, which is becoming more popular on this size of boat, is the SeaKeeper Gyro, which eliminates 95% of boat roll at low speeds and is available from the 590 upwards. This vacuum encapsulated gyroscope spins at speeds up to 557 miles per hour to prevent boat roll to provide a smoother experience for all on onboard.
Interior Design
Whatever your tastes there will be a design configuration to suit you. Depending on the model, the number of staterooms and bathrooms is flexible to fully meet your needs. All models come with a choice of finishes and fabrics to give a bespoke feel to your boat.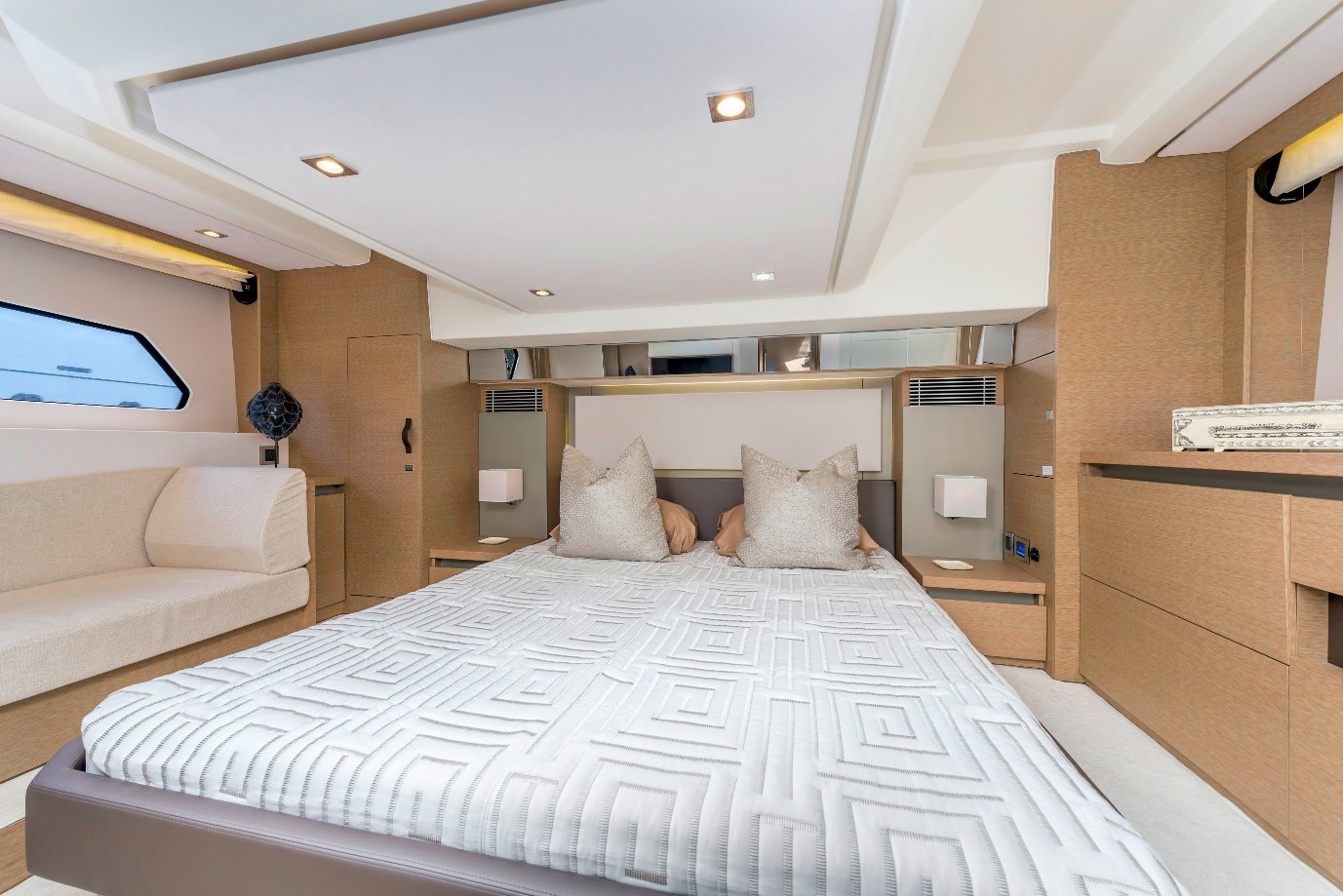 The options across the Prestige range include a variety of extras, including the following items:
Mediterranean or Tropical Air conditioning
Custom Hull Colour in Awlgrip
Teak flooring in cockpit and on swim platform
Crew Cabin
Hydraulic Bathing Platform
Hydraulic Gangway
At Burton Waters we pride ourselves on taking this a step further by offering you extras such as:
More extensive fabric collection
Multimedia including wifi hotspot
Satellite TV installation
Coding for Practice (prep for Charter)
Personal Customisation
Upgraded trim levels can include:
Excellence 2020 – with generator, inverter, sun pad mattresses
Prestige Luxury Package – with Villeroy & Boch dishware, high end bedding
Electronic Package 2020 – Axiom displays, Quantum 2 Radar, RY90 dual station
Bowers & Wilkins Sound Package – up to 8 B&W speakers plus multizone receiver and amp.
Entertainment Package – 3 TB Server, wifi Hub, TV antenna and TV points.
Take a 360 walk around here: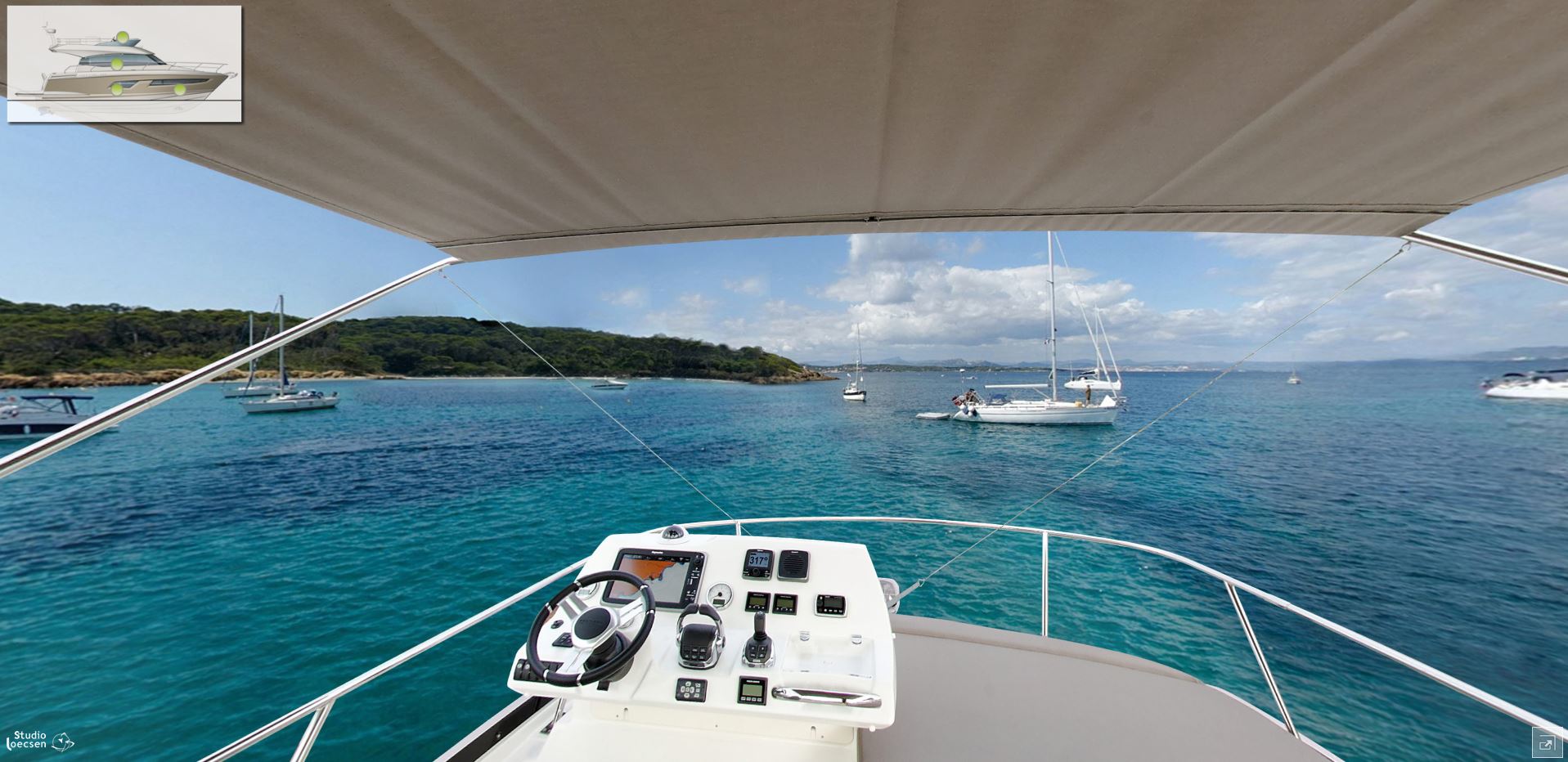 And don't forget those finishing touches
Selecting the right upholstery to compliment your interior design and trim is key. With ten shades to select from ranging from pale to dark the right look can be achieved. With additional lighting, sound and entertainment packages available it is easy to include all the comforts of home. Depending on how you want to use your space, the galley fittings are also customisable to achieve the fridge/freezer choice that is right for you, and even incorporate an ice maker.
By providing so many customisable features on the range, Prestige have created vessels that can fit to every buyer and user. The spacious living quarters give room for entertaining and enjoying the boating experience without having to compromise on amenities and everyday products.
Sign up to receive exclusive information and reviews of the New Prestige 420 Flybridge
It does not matter where you want to berth your boat – Burton Waters will get it there for you with the minimum of hassle.
As a luxury Prestige boat owner, you may want to spend all your time away in the warmer climates such as the Med. Well, you can do just that.
Transporting your boat over to The Med, or even further afield, has never been easier. It can be done by lorry transport or you can load your boat onto yacht transport anywhere in the world.
However, with Prestige boats being built in France, it is a very easy way to get them to the med for cruising.
Your next adventure awaits - get in touch with us here or call 01522 567404.